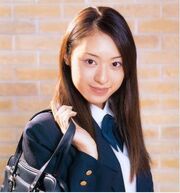 Eri Ishikawa' (の石川エリ Ishikawa Eri, born 25 December 1985 in Tokyo, Japan) is a Japanese actress. 
She is perhaps best known in the west for her role as Yukie Utsumi in the controversial 2000 film Battle Royale.
She and actress Satomi Ishii are very close friends, just like their characters Yukie and Haruka were. The actresses who played Yukie, Haruka, Yuko, Chisato, Yuka and Satomi Noda have all traveled, ate, hanged out together during production to distract themselves from the violent, depressing tone of the scene where their characters kill each other.
Filmography
Edit
Sagishi ippei 7 (2001)
Battle Royale (2000)
Toppamono taiyo-den (2000)
Sebunza feisu (2000)
Ad blocker interference detected!
Wikia is a free-to-use site that makes money from advertising. We have a modified experience for viewers using ad blockers

Wikia is not accessible if you've made further modifications. Remove the custom ad blocker rule(s) and the page will load as expected.