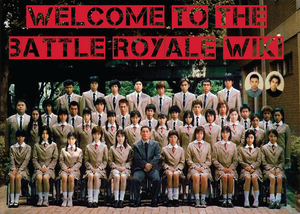 Below are all the known Shiroiwa Junior High School students that were mentioned in the novel, film, and manga.
Third Year Class 3-B
Edit
MALES
FEMALES
MENTIONED STUDENTS
Unnamed older boy that Takako Chigusa had a crush on
The students that beat up Mitsuru Numai and are beaten up by Kazuo Kiriyama
POSSIBLE STUDENTS
Ayako Chigusa (Takako Chigusa's sister)
Kayoko Kotohiki's sister
Kaori Minami's sister
Ad blocker interference detected!
Wikia is a free-to-use site that makes money from advertising. We have a modified experience for viewers using ad blockers

Wikia is not accessible if you've made further modifications. Remove the custom ad blocker rule(s) and the page will load as expected.