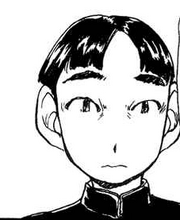 Boy #3 Mitsugu Kawasaki
is a character of the manga
Battle Royale II: Blitz Royale
.
Backstory
Edit
In the Program
Edit
Mitsugu stays in the same group of Megumi Ozaki,Yoji Kakano,and Hitomi Sakura.
During the first test, Mitsugu thinks that the threat of the collars exploding is a joke; so he tries to shoot at one of the soldiers. After he attempts doing so , said soldier presses a detonator and Mitsugu's collar is detonated killing him instantaneously in front of all of his peers.
Mitsugu is the first person of his class to die.
Ad blocker interference detected!
Wikia is a free-to-use site that makes money from advertising. We have a modified experience for viewers using ad blockers

Wikia is not accessible if you've made further modifications. Remove the custom ad blocker rule(s) and the page will load as expected.