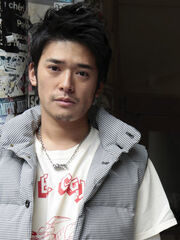 Sousuke Takaoka (高岡 蒼甫 Takaoka Sōsuke?, born February 8, 1982) is a Japanese actor, who lives in Tokyo.
Takaoka has often tackled powerful supporting roles, playing conflicted young men on the fringes of society. This mirrors the iconic roles of his favourite actor, James Dean, with whom he shares a birthday.
He is best known in the Western world for his break-out performance in the controversial movie Battle Royale, in which he played the pacifistic Hiroki Sugimura (Boy #11). Takaoka then moved from muted heroics to active anti-heroism in portrayals of the grittier side of teenage violence, such as in Concrete. The film was based on the events of Junko Furuta's sadistic murder by four youths in 1988.
In 2006, for his role as the introspective Honda in Spring Snow, Takaoka gained a Best Supporting Actor nomination at the Blue Ribbon Awards, a Japanese film event judged by critics.
On June 15, 2007 he married Japanese actress Aoi Miyazaki, after dating her for 7 years. In December 2011, she divorced him.
Filmography
Edit
Ad blocker interference detected!
Wikia is a free-to-use site that makes money from advertising. We have a modified experience for viewers using ad blockers

Wikia is not accessible if you've made further modifications. Remove the custom ad blocker rule(s) and the page will load as expected.