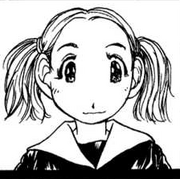 Girl #2 Suzuko Arikawa
is a character in the manga
Battle Royale II: Blitz Royale
.
Backstory
Edit
Suzuko is very calm and sweet.She was the nurse's aid at school.
In the Program
Edit
When some students say that Mitsugu Kawasaki is still alive,they ask for Suzuko's help,however,she says that she never dealt with such serious wounds.When a student pushes Makoto and the teacher thinks that her is offering to go in the mission,Suzuko also offers to go,to help Makoto,saying that she want to do her best.When Minami is shot,and Makoto says that Nomura pushed him,Suzuko says that it is no time to argue,and that they must help Minami.
Ad blocker interference detected!
Wikia is a free-to-use site that makes money from advertising. We have a modified experience for viewers using ad blockers

Wikia is not accessible if you've made further modifications. Remove the custom ad blocker rule(s) and the page will load as expected.