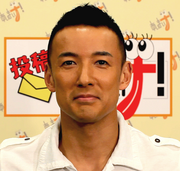 Taro Yamamoto (山本 太郎 Yamamoto Tarō?, born 24 November 1974 in Takarazuka, Hyōgo) is a Japanese actor and politician.
Currently, he is actively involved with the anti-nuclear movement and radiation safety for children in Fukushima after the Fukushima Daiichi nuclear disaster. He attempted to run for a seat in the House of Representatives during the 2012 general election, but did not succeed, winning only 25% of the votes representing for the Tokyo 8th district.He began a campaign to be elected to the House of Councillors in its 2013 election, and was elected on July 21st.
He is perhaps best known in the west for his role as Shogo Kawada  in the controversial 2000 film Battle Royale.
Filmography
Edit
Section heading
Edit
Write the second section of your page here.
Ad blocker interference detected!
Wikia is a free-to-use site that makes money from advertising. We have a modified experience for viewers using ad blockers

Wikia is not accessible if you've made further modifications. Remove the custom ad blocker rule(s) and the page will load as expected.