Character Information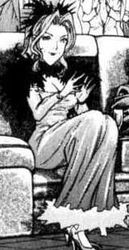 Toshinori and Nobunaga's Mother
Backstory
Edit
This woman is the mother of Toshinori Oda and Nobunaga Oda. Due to the way his family views life, it is highly likely that Toshinori's father only married her for her appearance. It is highly likely that she was upset when she learned her son was selected to be a part of the program.
Appearances
Edit
Ad blocker interference detected!
Wikia is a free-to-use site that makes money from advertising. We have a modified experience for viewers using ad blockers

Wikia is not accessible if you've made further modifications. Remove the custom ad blocker rule(s) and the page will load as expected.